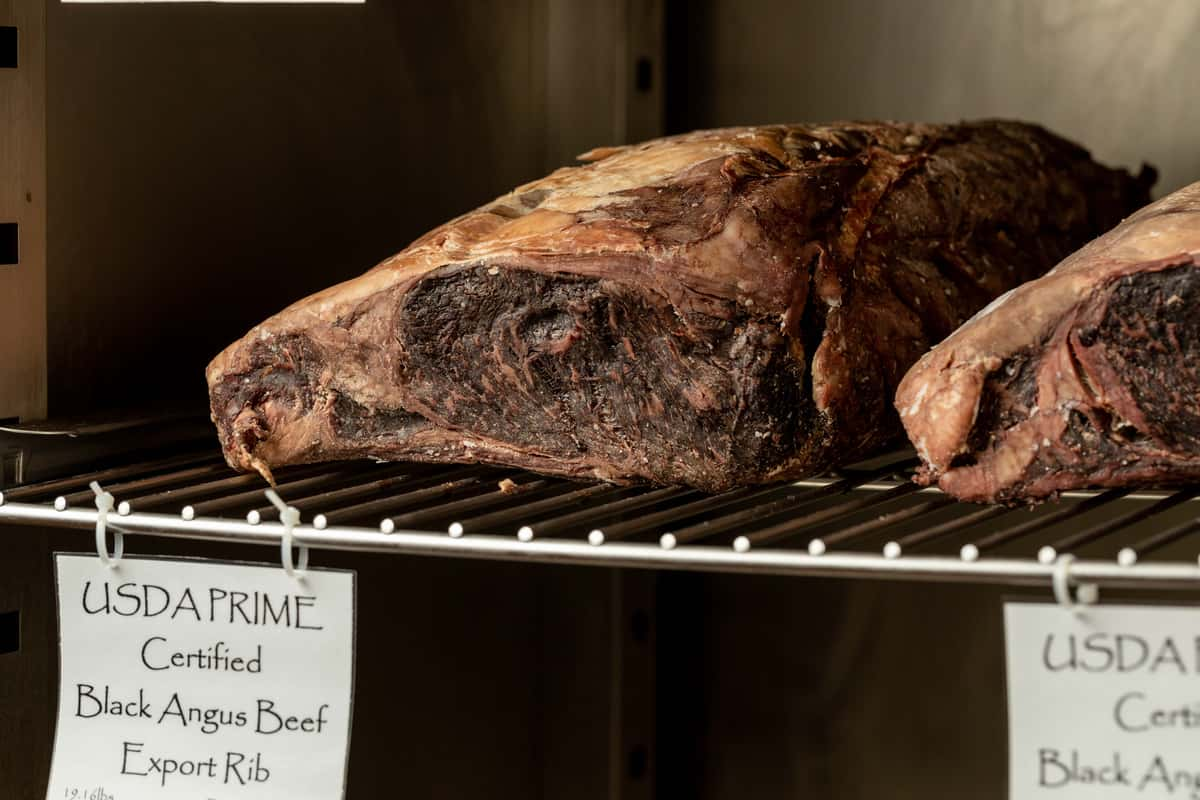 Provisions
Become a VIP
Receive updates on special events, new menu items, menu reviews, and more!
Provisions
Wagyu Beef - Marble Score 5+
Australian Wagyu beef from the finest herds that have been built with stringent attention to Japanese Genetics and feed rations. All grading is done by an independent contractor to ensure marble grades are consistent. 300+ days on feed, all natural, antibiotic free, hormone free.

* DENOTES DRY AGING UPON REQUEST- AVAILABLE IN 2019
Certified Angus Beef - Prime
Prime is the top level in quality of beef. Less than 2% of beef meets the high standards of Certified Angus Prime Beef. If you enjoy your beef juicy and full of flavor- you want a well marbled cut of Prime.

* DENOTES DRY AGING UPON REQUEST- AVAILABLE IN 2019
Certified Angus Beef - Choice
Certified Angus cattle are known for meeting high-quality standards- well marbled, more tender and flavorful cuts of meat. Choice grade requires a modest to high marbling- a medium to fine dispersion of fat throughout the cut creating a juicy and tender texture.
Pork
Pork Loin Back Ribs
Whether you prefer Memphis, Kansas City, Carolina, or Texas style barbeque, you're bound to find Pork Loin Back Ribs, aka Baby Back Ribs, on the menu. These meaty ribs are cut from the loin section and are smaller, less fatty, and more tender than the St. Louis Style Spare Ribs. Season them with your favorite rub or mop them with your favorite sauce, these ribs are perfect for a low heat grill or smoker.
Poultry
Teriyaki Chicken Kebobs with Bacon
An original from Gelsinger Meats, these Teriyaki Chicken Kebobs are large pieces of tender chicken breasts marinated in our signature Teriyaki marinade and skewered with pieces of bacon for the perfect Kebob! Grill them on the backyard Bar-B-Que and enjoy!
Hickory Smoked Sausages
Hickory smoked and fully cooked!
Cheddar Jalapeno Wurst
This unique combination of pork, cheddar cheese, jalapeño peppers, spices, and a hickory smoke finish makes for a very flavorful sausage that can be enjoyed in a variety of dishes. Add Gelsinger's Cheddar Jalapeño Wurst to your eggs for breakfast, use them in your favorite chili, cube them for an antipasto salad, or simply serve them in a bun!
Gourmet Sausages
A variety of made-in-house, gourmet sausages!
Chicken Jalapeño Sausage
Chicken sausage with a little kick! Gelsinger's Chicken Jalapeño Sausage is a naturally lean sausage that can be used in a variety of recipes. Use them as a substitute for pork sausage in your favorite recipes or serve them by themselves. Either way they are delicious!
Fused & Infused Olive Oils
Available in 200ml, 375ml, and 750ml bottles
Gourmet Oils
Available in 60ml and 200ml bottles
Roasted French Walnut Oil
Our handcrafted, Roasted Walnut Oil is made in Saumur, France strictly following 150 year-old traditional methods: slowly roasted to perfection, then expeller-pressed and lightly filtered. It adds a rich walnut taste to salad dressing, pasta, grilled meat, fresh baked pastries, and makes a great bread dip.
White Truffle Olive Oil
A connoisseur's olive oil! If you like the flavor and aroma of white truffle, then you'll love this oil. Made in Italy in an artisan fashion without the use of any extracts, this olive oil is smooth, while having an unmistakable intense white truffle flavor. Great as a finishing oil, in mashed potatoes, or drizzled on popcorn! It also makes an amazing aioli.
Balsamic Vinegars
Available in 200ml, 375ml, and 750ml bottles
Traditional Style Balsamic Vinegar
Aged using the Solera System for up to 18 years in chestnut, oak, mulberry, and ash barrels with a 4% acidity, our finest grade, Four Leaf Quality equivalent Condimento is exceedingly rich, complex, and dense. It pairs beautifully with any olive oil in our collection for vinaigrettes, glazes, or marinades. Try it drizzled over ice cream with fresh fruits and berries for a special sweet treat!
Premium White Balsamic Vinegar
Made with White Trebbiano grape must, our White Balsamic undergoes the traditional cooking and barrel aging process of Balsamic Vinegar of Modena. However, it is not caramelized and is aged in new wood barrels rather than barrels which were charred on the interior. The result is a crisp, "clean", tart, vinegar with a touch of sweetness and 6% acidity. Extremely adaptable, this vinegar can be used with any of our oils.
Infused Balsamic Vinegars
Available in 200ml, 375ml, and 750ml bottles
Specialty Vinegars
Available in 200ml, 375ml, and 750ml bottles
Champagne Wine Vinegar
When you first taste our Champagne White Wine Vinegar, you'll instantly fall in love with its smooth and elegant flavor. That's due in part to the way in which it is produced. Unlike other Champagne vinegars, this one never undergoes a pasteurization process. By eliminating this step, the vinegar possesses a lovely, rich base. 

Notes: Imported from the Champagne region of France, the vinegar is a divine ingredient in salads, or try in homemade mayonnaise; simply whisk with extra virgin olive oil, eggs and mustard.
Serrano Honey Vinegar
Our Sofi Award-winning, artisan Serrano Honey Vinegar is sweet, tart, spicy and made from 100% honey. Amazingly complex - makes a great addition to salsa, Ceviche, a Bloody Mary & shrimp on the grill. Delicious drizzled over sliced tomatoes and fresh mozzarella cheese. Add to dressings for leafy green, potato, pasta and rice salads. Toss with sliced strawberries and a grinding of black pepper for a delicious dessert. Can be used in place of traditional grape-based vinegar. Sulfite-free!